Around the Wiki
Featured Article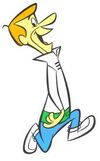 George J. Jetson is a fictional character and the 38-year-old father of the Jetson family. He is the husband of Jane Jetson and the father of teenage daughter Judy and elementary school aged son Elroy. read more...
Did You Know...

*Fred Flinstone's dog would be considered Dino?
Johhny Bravo thinks he's smooth with the ladies?
Almost all the characters on this wiki are Hann-Barbera?
Blossom is leader of The Powerpuff Girls?
Help Boomerang Wiki

To write a new article, enter the title in the article creator. Easy as "Throwing a Boomerang".
_NOTOC_