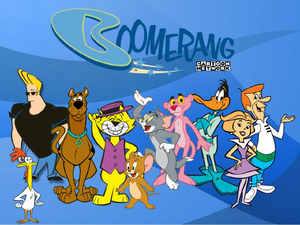 Here's the List of Programs Broadcast by Boomerang.
Numb Chucks
Chuck's Choice
Sidekick
Kid vs. Kat
Almost Naked Animals
Hanna-Barbera
Edit
Scooby-Doo, Where are You?
The Smurfs
The Flintstones
The Jetsons
Warner Bros
Edit
Teen Titans Go!
The Tom and Jerry Show
Looney Tunes
The Looney Tunes Show
What's New Scooby-Doo?
The Adventures of the Koopalings
Beetlejuice
Duck Dodgers
Scooby-Doo! Mystery Incoporated
Krypto the Superdog
Tom and Jerry Tales
The Sylvester and Tweety Mysteries
Teen Titans
Baby Looney Tunes
Superman: The Animated Series
Batman: The Animated Series
Wabbit
Be Cool, Scooby-Doo!
Bunnciula
Cartoon Network

Edit
The Amazing World of Gumball
Cow and Chicken
Johnny Bravo
The Popeye Show
Ed, Edd n Eddy
Camp Lazlo
I Am Weasel
The Grim Adventures of Billy & Mandy
Codename: Kids Next Door
Mike, Lu & Og
The Bob Clampett Show
Dexter's Laboratory
Out of Jimmy's Head
What a Cartoon!
Courage the Cowardly Dog
Samurai Jack
Uncle Grandpa
Steven Universe
The Powerpuff Girls (2016 TV Series)
Ben 10
Hole in the Wall
Hero: 108
Ben 10 Omniverse
Other programming Edit
The Garfield Show
Grojband
Pokemon​
Bakugan Battle Brawlers
Supernoobs
Garfield and Friends
The Spooktacular New Adventures of Casper
The New Woody Woodpecker Show
Pink Panther and Pals
Casper's Scare School
Shaun the Sheep
Gerald McBoing-Boing
Johnny Test
Dreamworks Dragons
The Pink Panther
All Dogs Go to Heaven: The Series
The Land Before Time
Ad blocker interference detected!
Wikia is a free-to-use site that makes money from advertising. We have a modified experience for viewers using ad blockers

Wikia is not accessible if you've made further modifications. Remove the custom ad blocker rule(s) and the page will load as expected.